BT Mapping Contest 2018-2019
NOTICE: the information below is subject to change so please check back soon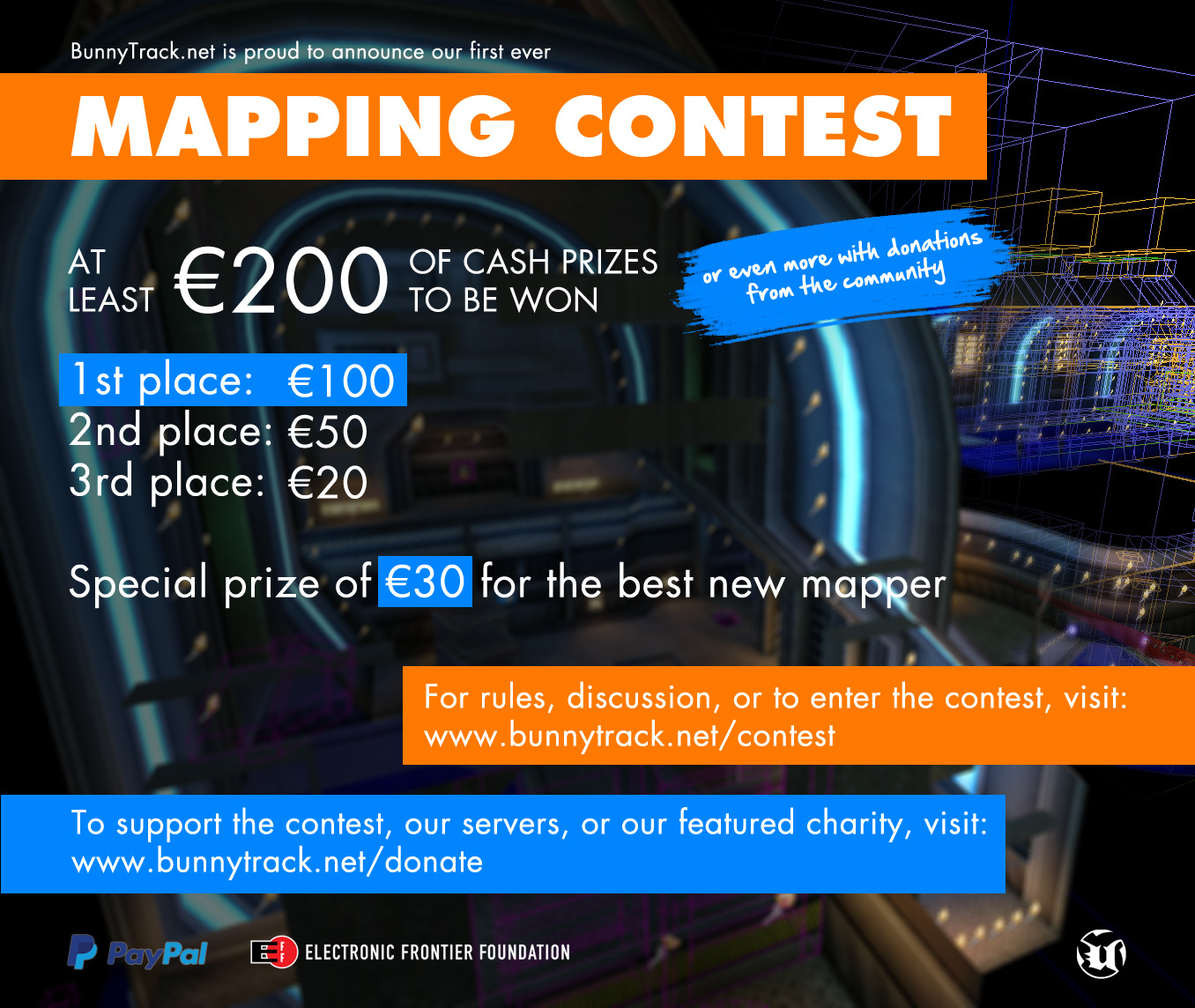 BunnyTrack.net are pleased to annouce that we are hosting a mapping contest. We encourage anyone to participate, whether you're a seasoned veteran, casual mapper, or a beginner - all are welcome. If you've never made a map before then you could win €30 for our "best newcomer" prize!
Our Plan
This contest is a work in progress and hasn't started yet. Right now (July 2018) the plan is as follows:
Decide on final rules and finish off the web pages (October 2018)
Set up forums to discuss the contest (October 2018)
Recruit as many people as possible to take part in the contest (Oct/Nov 2018)
Everyone decides on a reasonable deadline together (probably at least 3-6 months)
Judging takes place (~summer 2019)
Prizes are paid to the winners
Maybe we have another contest!
Prizes
The total prize pool is at least €200, or more if donations are received.
The BunnyTrack.net admins (Dizzy/Sapphire) will provide the first €200.
Players can donate towards the contest, our server costs, and/or our featured charity which will be the Electronic Frontier Foundation.
Full details about how to do this will come before the end of October 2018.
1st place: €100
2nd place: €50
3rd place: €20
Best newcomer: €30
Terms/Rules
Deadline to be confirmed soon but will probably be around July 2019
Maps will be judged by the BunnyTrack.net admins and possibly regular players (details TBC)
Minimum length of 2 minutes
No re-using existing rooms/maps (small amounts allowed)
Guidelines
While there are no strict guidelines except "no trash maps", we encourage:
Attention paid to architecture
Atmospheric lighting
Custom textures/sounds/music
Consideration of mover properties (e.g. return time, initial state, etc.)
Giving the map a natural "flow"
Not deleting your map's brushes because this discourages others' learning
...and discourage:
Extremely difficult or unfair obstacles (e.g. luck dodges, giant mazes)
Repetitive, boring, unoriginal obstacles (e.g. BT-Kman)
Your map doesn't have to be at the same standard as a NuLL level, but we expect a decent amount of effort.
Examples of Bad Maps
A few choice examples to make it clear what we consider "bad" mapping:
If anything is unclear or you have any questions regarding the contest, feel free to e-mail us at admins@bunnytrack.net or chat to us in-game.